I'm starting this new thing where I actually do what I started this blog to do! I'm going to write each month about the books that I've been reading so that we can start to talk about books again on here. I'll still post my 'Assorted Beverages with Alys' posts, but these are coming too.
If you've read any of these books don't be afraid to comment your thoughts on them below and we can have a chat.
So here goes! August was a good month for reading, I got a lot of words in my head!
I Know Why The Caged Bird Sings- Maya Angelou 
My Aunt Miranda brought this around for me when she came to visit and it's been on my reading list for a very long time so I was very happy to receive it as a gift.
I loved this book. Which feels weird to say because it's at times an horrendous tale of a real person's life. It is an autobiography and it's quite difficult to read sometimes because it's hard to read the events that happened to someone, a real someone, that actually exists. These events actually happened. It's interesting to see how things have progressed in our society, and also how they haven't. It's painful to read, it's heart-rending to read, and it's very much a human story. I could say so much about this book, I have SO many notes written on post-its stuck on almost every page of it, but I wouldn't even know where to begin. (Also, I may be using it next year at university, so I don't really want to write in too much depth in case I accidentally plagiarise myself if I use it in an essay)
Read this book. It is important.
Tuesdays with Morrie- Mitch Albom 
I love this book. I read it last summer when I was Alex's house on the recommendation of his dad Dave, and on the back of my love for 'The Five People You Meet in Heaven.' I read it again this year while I was there again. I think it's just something that I should read every time I'm in that house! It's a lovely book about the relationship between Mitch Albom and his old university lecturer Morrie. It's told over the course of a period of time after Morrie finds out that he has ALS and his health begins to decline. As Mitch visits him on Tuesdays we see how although Morrie's health deteriorates and his independence is stolen by his condition, we also see how his personality and the beauty of his outlook shine through. The two men settle into their old patterns and have lessons each week, Morrie re-assuming the role of tutor and Mitch that of the student. As the book, and Morrie's illness progress, we learn about what is actually important in life.
It's a very uplifting and bittersweet book to read because you are always aware that this lovely kind man is dying, and that the end of the book will come when that has happened. We know that this sweet, raw relationship between two real people is going to come to a conclusion at the end of the book and we will never be able to thank Morrie for the lessons that he has taught us. He is living on through his words as written by his good friend, but it's always in the past tense. It's beautiful and poignant and I definitely need to buy my own copy of it because if I keep borrowing Dave's I will eventually destroy it!
Captain Corelli's Mandolin- Louis de Bernières 
This is one of my all time favourite books. It's beautiful and sad and nuanced and it will be on my bookshelf for the rest of my life. The book is set during the first world war, on the Greek island of Cephallonia. The main storyiline, arguably, is the love story between Pelagia and Captain Corelli, but that actually isn't the most interesting part of it for me. I love the relationship between Pelagia and her father, and I love the relationship between Carlo and the reader. Carlo is probably my favourite character. I thought that there was too much of Mandras, not enough of Drosoula and Pelagia, and although I didn't like him as a character I thought there should be more of the German soldier Günter Weber because of the potential to explore how Nazi soldiers were also just people. One of the main events in the book is how the Italian soldiers interacted with the German soldiers and were friends, and then when the politics of the war caused the Italians and Germans to be on separate sides, how that friendship changed into animosity. There's almost too much to write about this book and it's difficult to organise my thoughts on it.
I liked that we heard the story from multiple perspectives and from all sides of the war. We heard from Italian, German, and English soldiers and we also heard a lot from the Cephallonians whose home has been occupied by these people that were interrupting their way of life and frequently having atrocities committed upon them. It's a very well written book with beautiful intricacies in the characters and their relationships with each other and it's just a wonderful book that I think that everybody should read because of what it teaches us about the common humanity that we all share and having empathy for other people, whether we agree with them or not.
The Bees- Laline Paull
I cull my books every year and this one was on the pile of possible rejects, but I thought I would read it just one more time to be sure if I wanted to send it to the charity shop, or to keep it on my shelves. It is still on my shelves. It;s a fantastic book about motherhood and about resilience when faced with restrictions.
Flora is a bee and it is forbidden for her to move outside of her caste. She is a sanitary worker in the hive, but she was born with the ability to speak. The novel spans the entirety of Flora's life and tells her story through the ups and downs and her changes of career in her life. The Hive is an environment operating under strict rules and regulations and the story of Flora's life is the story of what happens when someone who is not expected to be intelligent goes against those rules and regulations and changes an entire society. It's a great book. I'm not sure how much longer it will be on my shelves, I tend to love it when I'm reading it and then the love and the intensity of that fades after I've read it, so I know it will be on the 'maybe' pile again next year, but it may stay on the shelves again, who knows?! Maybe I just have to keep reading it every year to keep it on my shelves!
Harry Potter and the Philosopher's Stone- J.K.Rowling 
What can I really say about this? You already know it all. It's a brilliant book for kids that has nostalgia on every page and some pretty good life lessons that are easily digestible for children. This was the first time I've read it in years as my original copies all got given away to my cousins by my mum, so this time I read my own copy that I bought for myself. The 20th anniversary brought out new editions of the books that I obviously had to buy, especially because I no longer had any copies, so I got myself a Hufflepuff edition. (Hufflepuff pride) I loved all of the extra bits that came with the new edition, although now I want to read all the stuff in the other House versions so that I can see what they say. I'd be interested to see what the Slytherin one says.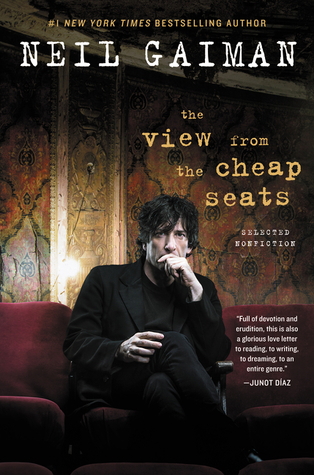 The View From The Cheap Seats- Neil Gaiman
I'm not sure how I felt about this book. A lot of it was extremely interesting, but I think that the mistake I made with it was trying to read it from cover to cover. It's a collection of Gaiman's non-fiction, essays and speeches, and doesn't really work that way. I think that if I had read this over a much longer period of time I would have enjoyed it more, and I will definitely pick it up to do just that at some point in the future, but on this first reading it was a bit of a mixed bag. There were points that I felt incredibly inspired after reading, and other times felt that I couldn't finish a piece quickly enough. I think I just got a little fatigued with reading piece after piece of non-fiction. I did read this at the same time as another book, but I was very preoccupied with trying to get it finished and I think that scuppered my ability to enjoy it and take in what it was saying fully. Perhaps next time I read this I will have more to say about it's actual content and how I feel about it.
Norse Mythology- Neil Gaiman 
I love Norse myths, I think they're hilarious and they're great because the gods are flawed and I just really like stories with flawed characters. I really enjoyed reading Neil Gaiman's version of them because I like his narrative style and it was interesting to see how it differed from Joanne Harris' 'Gospel of Loki' in both style and certain translations. I liked both, but I think I preferred Gaiman's- although I'm not sure whether that is an unconscious bias because I love so much of his work. (I also like Joanne Harris' work, but it is written in a different way to the other books that I have read by her)